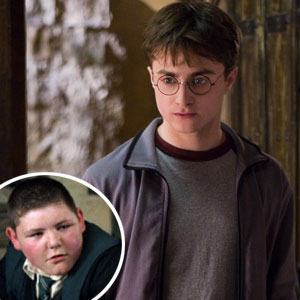 There's no wizardly spell to get out of this one.
Jamie Waylett, the actor who played Slytherin cohort Vincent Crabbe in the Harry Potter films, was found guilty of violent disorder stemming from his involvement in last year's London riots.
And though he won't be headed to Azkaban, the actor is going to be locked up…
Per the BBC, the 22-year-old actor was sentenced to two years in jail.
But there is good news, of a sort. He was cleared of another charge—intending to destroy or damage property with a gasoline bomb.
A hooded Waylett was reportedly caught on camera chugging down a bottle of champagne and wielding the bomb in question during the 2011 riots, which led to the arrest of more than 3,000 people.
In court, the presiding judge, Simon Carr, told Waylett, "I accept entirely the jury's verdict that you did not throw or have any intention of throwing it, but merely being in possession of it would have been terrifying to anyone who saw you."
The bust-up is the latest addition to the young star's growing rap sheet.
In 2009, he was popped for growing marijuana at home and served 120 hours of community service.
The incident reportedly led Harry's Potter's filmmakers to write his character out of the series' final installment, Harry Potter and the Deathly Hallows: Part 2
Source: eonline.com